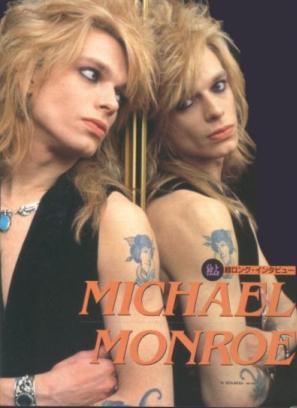 Si señor!!! Otro cedé más pa mi habitación!! El
Nights are so long
de Michael Monroe, del año 87. Lo estoy escuchando un poco por encima y está genial!! Rock 'n' roll!! Xi señór! Da gusto oir wena música!. Estoy escuchando una canción de ese disco que se llama
Million miles away
:O. Que caña de cancion!! :O. Vaya comienzo, colegas!!: Una guitarra que se marca un punteo impresionante! y a mitad de canción, un solazo guitarril pa morirse, que digo yo que tendré que averiguar quien es este hombre-guitarra... porque Andy McCoy no formaba parte del grupo de Michael Monroe en solitario... así que...
Salud y R'n'R
Nights are so long
Misery marches next to you
Corrupting all the things you do
Happiness can be in your family
Victim of T.V.
Ooh, the Nights Are So Long
Ooh, the Nights Are So Long
Hard to think things in my view
For ten years, people I met you
Things that I ignored
Places I explored
There was sad times stored
Ooh, the Nights Are So Long
Ooh, the Nights Are So Long
The places that we used to be
They turned to haunting memories
This society got no place for me
Love my misery
Ooh, the Nights Are So Long
Ooh, the Nights Are So Long