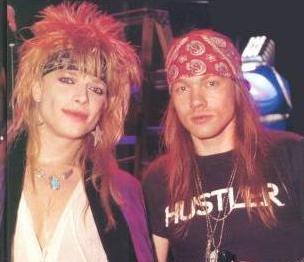 Uoh Uoh Uoh!! Se me acaba de bajar del "borrico" el videoclip de esta peaso canción! La leche que caña!!. Rock'n'roll en estado purísisisisimo: grandes baquetazos, guitarreos a punta pala y la melodía de una armónica suelta por ahí!. Y con la GRAN colaboración de Axl Rose (voz de los Guns'n'roses). Impresionante dueto!.Y... he de añadir, he de añadir... que me encanta el pelo que me lleva Michael Monroe. Ojalá se welven a llevar los pelos crepaos, que yo sería de las primeras que me lo pondría asin. Arghs! Me encanta esta estética hard-rockera ochentera! Que penica que ya no se lleve. :_(
When I was a kid all I wanted to be,
Was the meanest dude on the meanest machine.
Now I'm going the wrong way on a one-way street,
I never fit this society.
I don't really mind,
Doing my own time,
The three choices I ever came to find,
Were:
Dead, Jail or Rock N' Roll
Dead, Jail or Rock N' Roll
Dead, Jail or Rock N' Roll
Dead, Jail or Rock N' Roll
I ain't looking for trouble but it's looking for me,
The law of the jungle is protecting me.
Lose sleep man stay out of your bed,
You might wind up in jail if you lose your head.
In death I might find,
True piece of mind.
But while I'm alive,
Free choice is mine.
It's either:
Dead, Jail or Rock N' Roll
Dead, Jail or Rock N' Roll
That's right, let you know
I don't really mind,
Doing my own time,
The three choices I ever came to find,
Were always:
Dead, Jail or Rock N' Roll