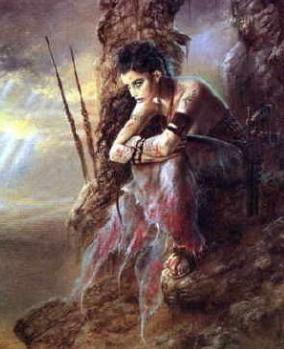 Rosalita jump a little higher
Señorita come sit by my fire
I just want to be your love, ain't no lie
Rosalita you're my stone desire.
Now I know your mama she don't like me
'cause I play in a rock'n'roll band
I know your daddy he don't dig me
but he never did understand
Papa lowered the boom, he locked you in your room
I'm coming to lend a hand
I'm coming to liberate you,
confiscate you, I want to be your man!!
[ "Rosalita" del album "the wild , the innocent and the E Street Shuffle" de Springsteen, 1973]
Rosalita salta más alto
Señorita sientate a mi lado
Solo quiero ser tu amor, no es broma
Rosalita eres mi gran deseo
Se que no le gusto a tu madre
porque toco en una banda de rock
Y se que tu padre no me aguanta,
pero el nunca lo entenderá
Papá apaciguó el estruendo y ten encerró en tu cuarto
He venido a echar una mano
He venido a liberarte, a confiscarte
Quiero ser tu hombre
Gracias Juan por avisar... :P Un besico niño!!, Espero que ahora puedas pillar el fragmento de cancion ;)